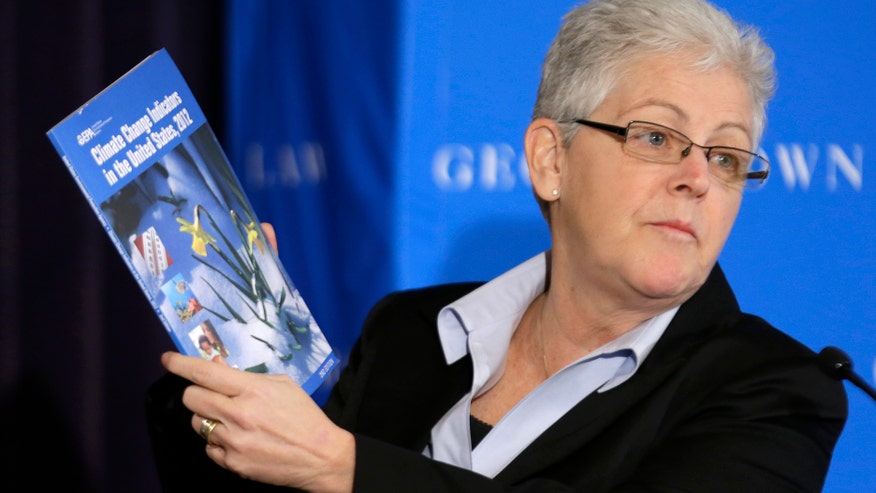 The Environmental Protection Agency's little-known Office of Homeland Security has illegally blocked investigations by an independent watchdog for years, an inspector with the agency's Office of Inspector General will tell Congress Wednesday.
Patrick Sullivan, the assistant EPA inspector general for investigations, is expected to testify Wednesday before a House oversight committee about the activities of the Office of Homeland Security, a unit run by President Obama's political staff.
The office of about 10 employees is overseen by EPA Administrator Gina McCarthy's office, and the inspector general's office is accusing it of operating illegally as a "rogue law enforcement agency" that has impeded independent investigations into employee misconduct, computer security and external threats, including compelling employees involved in cases to sign non-disclosure agreements.
"Under the heavy cloak of 'national security,' the Office of Homeland Security has repeatedly rebuffed and refused to cooperate with the OIG's ongoing requests for information or cooperation," Sullivan wrote in prepared testimony. "This block unquestionably has hamstrung the Office of Inspector General's ability to carry out its statutory mandate to investigate wrongdoing of EPA employees."
EPA Deputy Administrator Bob Perciasepe was expected to tell Congress that the agency's employees work cooperatively with the inspector general and support its mission, according to his prepared testimony.
Perciasepe assured Congress in his prepared testimony that the EPA remains committed to ensuring that the inspector general's office successfully roots out waste, fraud and abuse across the agency.
The inspector general, Arthur A. Elkins, Jr., was appointed to lead the office by Obama in 2010. However, it's an independent office within the agency expected to be outside of political influence.
"It's disturbing that even investigations by this administration's own nonpartisan watchdogs are being blocked by political appointees," said House Oversight and Government Reform Committee Chairman Darrell Issa, R-Calif.
EPA's Office of Homeland Security was set up in 2003 by an administrative order, and has no statutory authority to conduct investigations or enforce the law, according to Sullivan's testimony. Sullivan's opinion was backed up by a staffer in the Office of Compliance and Enforcement Assurance, but the agency has not issued a legal opinion on the office's role. Since July 2012, in an agreement with the FBI, it has been the primary contact on all investigations with a connection to national security.
The dispute between the inspector general's office and the Homeland Security office came to a head last year, as Republicans in Congress investigated the agency's handling of John C. Beale, a former deputy assistant administrator who pleaded guilty in federal court last fall to stealing a total of $886,186 between 2000 and April 2013, falsely claiming he was working undercover for the CIA. The Beale case was initially investigated by the Homeland Security office months before the IG's office was made aware of it.
In a February letter to Sen. David Vitter, R-La., Elkins said that a staff attorney refused to be interviewed on a related audit following Beale's prosecution. He wrote that auditors found indications she may have been aware of concerns about Beale's pay months earlier.
Another inspector general investigator, Elisabeth Heller Drake, will testify that McCarthy asked the inspector general's office to halt a probe into a homeland security office employee after he allegedly assaulted her in October, according to her prepared testimony.
Drake will testify that she attempted to interview John Martin, an intelligence adviser and special agent in EPA's Office of Homeland Security, but that he would not answer basic questions, according to testimony obtained by E&E Publishing.
After Drake realized that Martin left without signing a nondisclosure form, she tracked him down and found him discussing the interview with two other EPA employees.
EPA Intelligence Adviser Steven Williams then approached Drake "aggressively" and screamed at her, according to the testimony. Drake later filed an assault complaint.
"While Mr. Williams is not a large man, his inexplicable anger and aggressiveness in this professional office setting managed to leave me feeling intimidated," Drake said.
The EPA says that claim is a mischaracterization and that McCarthy only asked that the investigation be paused until the internal dispute between the two offices was settled safely and efficiently.
Both the IG's office and the EPA's lawyers have requested a third-party investigation into that incident by the Federal Protective Service, part of the Homeland Security Department.
EPA spokeswoman Alisha Johnson told E&E Publishing in March that the EPA and the IG's office were "working together to resolve our disagreement regarding areas of responsibility within matters related to national security."
The Associated Press contributed to this report.
Follow enlightenedlbrl