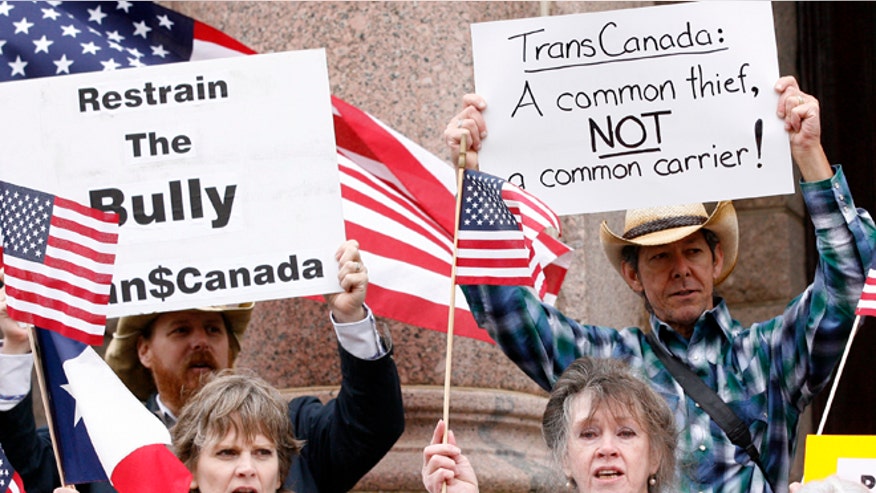 FILE: February 17, 2012: Protestors rallied in front of the Lamar County courthouse before a hearing on the Keystone pipeline in Paris, Texas.REUTERS
The Obama administration once again has punted on a final decision for the Keystone XL pipeline, announcing ahead of the holiday weekend that it is extending a key review period indefinitely — a move that could push off a determination until after the midterm elections.
Republicans, as well as red-state Democrats who want the pipeline approved, slammed the administration for the delay.
"It's absolutely ridiculous that this well over five year long process is continuing for an undetermined amount of time," Sen. Heidi Heitkamp, D-N.H., said in a statement.
Republican Nebraska Rep. Lee Terry called the decision "shameful," particularly since it means another spring construction season will come and go without the project.
The administration had been in the middle of a 90-day review period for federal agencies assessing an environmental study from the State Department.
But the State Department said Friday it is giving agencies "additional time" to weigh in, in part because of ongoing litigation before the Nebraska Supreme Court which could affect the pipeline's route.
Further, the department said officials need to go over the "unprecedented number" new public comments — roughly 2.5 million of them — received during a separate comment period that ended in early March.
"The Permit process will conclude once factors that have a significant impact on determining the national interest of the proposed project have been evaluated and appropriately reflected in the decision documents," the department said.
Keystone supporters in Congress were furious with the decision. Just days earlier, 11 Democratic senators had written to President Obama urging him to make a final decision by the end of May, complaining that the process "has been exhaustive in its time, breadth and scope."
With the extension, the administration effectively has turned down that request. One of the letter's signatories, Sen. Mary Landrieu, D-La., said the decision amounts to an "indefinite delay" of the project.
"This decision is irresponsible, unnecessary and unacceptable," she said. "By making it clear that they will not move the process forward until there is a resolution in a lawsuit in Nebraska, the administration is sending a signal that the small minority who oppose the pipeline can tie up the process in court forever. There are 42,000 jobs, $20 billion in economic activity and North America's energy security at stake."
A congressional source told Fox News that at this point, the administration is not giving a hard deadline, and the process appears to be open-ended.